Get a full range of dumpsters with Same Day Service available.
We carry a full range of dumpster roll-off container sizes and options for any demolition, commercial construction or home remodeling project.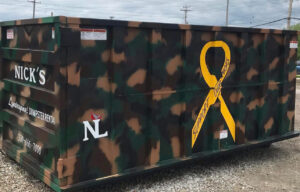 Whether you are just cleaning out your kid's room after they've gone off to college, or you are looking for multiple dumpsters for a demolition project, Nick's Landscaping & Dumpster Rentals offers a wide variety of dumpster sizes for delivery throughout the greater Cleveland-Akron-Canton area. 
What size dumpster do I need?
For smaller jobs such as clearing out garbage for one or two 10′ x 10′ rooms (spring cleaning), 10 yard to 15 yard dumpsters are usually ideal. If you're doing a kitchen or bathroom remodel, you'll probably need a bigger dumpsters to get rid of larger items like sinks and toilets. If you need a dumpster for a fire or flood restoration project, then 25-30 yards is usually sufficient. 
Solid & Organic Waste
Dirt, Concrete, Yard Waste
(Not Mixed Together)
Construction Debris
Anything attached to your house: drywall, roofing, siding, sinks, tiles, toilets, and wood.
Trash & Household Items
Bagged or loose trash, garage/basement cleanout, appliances. (See prohibited items)
Prohibited Items
Hazardous Materials
Paint, Oil, Gasoline
Spray Cans, Gas Cans
Natural gas containers full or empty
Liquids of any kind
Batteries of any kind
Tires of any kind

Appliances cannot contain CFC's or refrigerants. We do recycle them for scrap. All metals must be placed on top of the dumpster – LAST IN.
Storage Containers for Rent
20ft long x 8ft wide (parking space wide) x 8ft tall starting at $7 per day*
10ft long x 8ft wide (parking space wide) x 8ft tall starting at $6 per day*
*Other fees may apply.
Call 330-666-7000 for a firm quote.